Fort Laramie
Christian Calhoun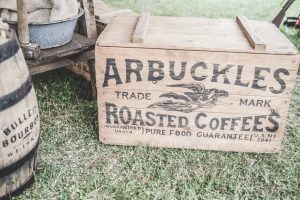 After traveling on the Oregon Trail for months, many a pioneer found themselves thirsty for water, food and civilization. Just as they began to give up, the historical sight Fort Laramie in Wyoming would come into view giving the pioneers a bit of hope to last them the rest of the journey.
Fort Laramie was created originally as a trading post for both mountain men and Native Americans alike. Both parties found the fur industry very profitable and needed a secure location to sell their products. Thus, Fort Laramie was born. At first Fort Laramie was called Fort John and continued to be called this for formal occasions. But for the traders, the name didn't matter so they continued to call this resting place the more commonly used title which is still used today.
Many people know Fort Laramie as the army base primarily used to scare away any aggressive Indians who found the Westward Expansion not so divine. When in fact Fort Laramie was primarily used for trading: buffalo furs for alcohol, beads, coffee, flour, sugar, guns and ammo, and tobacco. The fort was built to replace Fort William, a poor ransacked trading post which was founded by William Sublette. Unfortunately, his plans didn't work so well so he sold the property to the American Fur Company which transformed the old wooden sheds into stable and usable adobe buildings.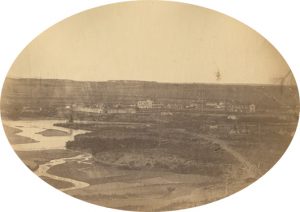 The fort, as I mentioned above, was mainly used by Native Americans and fur traders for peaceful negotiations. However, the westward movement greatly increased growing distrust among the Indians so some of them began to attack the emigrants nearby the fort. Unfortunate as they saw it, the pioneers just kept on pouring into their sacred lands. So, they continued to attack and kill many families. The government acted, not immediately mind you, and eventually purchased Fort Laramie.
Fort Laramie was the second military fort to be erected for protection services. And although thousands of pioneers already knew Fort Laramie to be a place of refuge the thought of military protection nearby probably relieved the tension many pioneers had who camped close to the fort. And conveniently it was not a far travel to reach the nearby river, Laramie River.
The Native Americans only saw this as a threat and continued to attack several groups. The government in return slaughtered several tribes, leaving very few survivors. The conflict between nations did not resolve until the late 1890's when Sitting Bull, a Lakota leader, was killed during an arrest. Although he had surrendered to the government and even joined a circus, officials feared he would enliven the Ghost Dance movement. They attempted to arrest him but instead they shot him twice, killing him as his supporters would not let them leave peacefully.
Fort Laramie was vacated once the Native Americans unwillingly submitted. It was sold to the locals who turned it into a historical sight during the late 1930's. It was exclaimed to be a
National historical sight in 1960. Fort Laramie was a place of war, peace, tranquility, refuge, and trade. Today we can see Fort Laramie which still has some of its buildings carefully preserved by the government and its people.