Heritage – History of Knitting and Crocheting
Crystal Calhoun
Traditions are passed down through the ages, some are kept, some are lost, and others become a worldwide sensation. Some examples of these hobbies would be needlework, woodcraft, and even caring for a special exotic animal. We will go over the history and current uses of many traditions that became necessary to learn when there were no machines and factories. Prepare to be amazed as we dive deep into the history of musical instruments, dances, and royalty. Welcome to, "Heritage".
Today we will discuss one of the most enjoyed hobbies in the world, even in the remote area where it is hard to obtain materials. This craft is called needlework, which includes many different subjects such as embroidery, knitting, crocheting, and weaving. All these were used by our Ancestors the Pioneers, as they needed to make their own clothing. But where did some of these beautiful skills come from? And how can they influence our world today.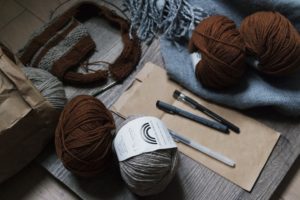 As I stated above, there are many different kinds of needlework, so today we will focus on three specifically. Crocheting and knitting. Other crafts such as embroidery, sewing and weaving will we discuss later in the series.
Crocheting is a thoroughly enjoyed hobby used to make an assortment of items; from scarves and blankets, to dresses and toys, the skill has been passed down through generations and kept alive in American culture. And even though the origins are a mystery, there are some clues that archeologists have uncovered in Europe. These clues led to another set of finger-prints that led to China's ancient embroidery craft called Tambour. It is said that crochet originated from Tambour, however there are many other claims including that claim that crochet originated from Peru almost 2000 years ago.
Others argue that it came from Ireland, still archeologists are unsure whether people just figured that pulled yarn through hoops worked to make clothes, or that they figured a whole science behind needlework that we are unfamiliar with.
And even though its origin is unknown, through some miraculous way the craft of Crochet made it to Americas where the colonists learned the close cousin to knitting, our next subject. Knitting was used more commonly by the pioneers as it was easy to do, and the hooks were much easier to craft. But this beautiful hobby has a curious history with the Spaniards, Muslims, and even ancient Egyptians!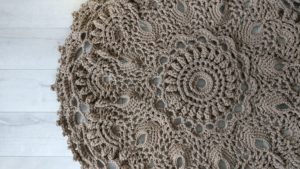 The earliest knitted clothing items found was some cotton socks in Egypt. They were beautifully designed and colored, but the historical clue led us nowhere except to a dead-end. It is the only known pair of socks to be that old, but some other clues popped up in Europe where some socks knitted by skilled Muslims working for Christian Spaniards were found. They were made using the pearl stitch, which is a style of knitting for those unfamiliar with the phrase. These interesting red stockings belonged to the wife Cosimo de Medici. Another place to find real old socks would be the English Queen Elizabeth 1's closet as she favored stockings; more specifically silk stockings.
This skill eventually passed down through the generations, how, no one knows, but it did. It became a wonderful way to pass the time and make amazing fashion additions during the 1900's. It also became extremely popular to learn during the World Wars as troops needed socks, hats, scarves, and sweaters. Red Cross began publishing patterns designed to aid the sailors and troops, as did other magazines in various countries to support their fighting soldiers.
The knitting machine was used commercially till the Great Depression set in when it was unneeded. Instead, hand-knitting took over as it became a necessity. The hobby became an extra income most of the time, but today, many families do not need the skills of a professional knitter as Goodwill is probably just across the street. However, many families do need to learn the skill as machine-made clothes are too expensive in poor rural places.
Unfortunately, the knitting craft is not expressed enough for the young generation to learn it, even though knitting was probably the thing that brought some of their ancestors through the depression, potato famine, and other wars that would have normally destroyed families.
Instead of giving your child an I-phone, try giving them a pair of needles, some yarn, and an instructional book. You just might provide a wonderful career or give them something to treasure for their future home.