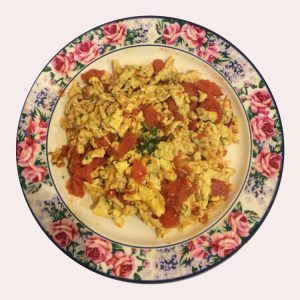 Ingredients For Tomatoes:
2 Large tomatoes
1 teaspoon salt
1 teaspoon black pepper
Ingredients For Eggs:
6 large eggs
Add salt and pepper to taste
A pinch of Cayenne Pepper
1/4 teaspoon garlic powder
A pinch of Paprika
A pinch of Ms. Dash
1/4 teaspoon dried parsley
Directions:
Remove the skins from your tomatoes by setting them in boiling water for 45 seconds. Finely dice them then Sauté with a little butter in a saucepan with your salt and pepper. Set aside for later. In another saucepan scramble eggs till cooked thoroughly. Combine eggs with tomatoes and stir till properly mixed together. Add cheese for a nice finish.
Back in the time of the pioneers, boxed microwaveable lunches were a thing of the future. But people still had to eat, especially when working hard. Eggs were something they had on hand most of the time due to the fact that they traveled with their livestock, chickens, goats, cows and more. Eggs were something quick, easy, and filling when thrown together with what every was in the kitchen at the moment, and would satisfy the needs of most for a nice midday meal.