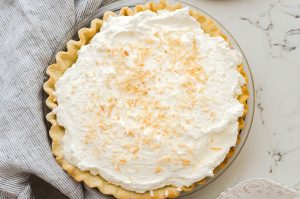 Ingredients:
¾ cup sugar
1 cup boiling water
2 tablespoons cornstarch
2 tablespoons flour
2 egg yolks slightly beaten
4 tablespoons lemon juice
Grated rind one lemon
1 teaspoon butter
A pinch of salt
Directions:
Mix sugar, cornstarch, flour and salt, add boiling water gradually, stirring constantly. Cook over hot water until mixture thickens; continue stirring. Add lemon juice, rind, butter and egg yolks. Line a pie pan with Rich Paste, wet edges, and lay around a rim of pastry one inch wide; flute edge. Cool mixture and turn in lined pan. Bake in a moderate oven until crust is well browned. Remove from oven, cool slightly, spread with meringue, (if desired) return to oven to bake and brown meringue*.
Meringue: an item of sweet food made from a mixture of well-beaten egg whites and sugar, baked until crisp and typically used as a topping for desserts, especially pies. Individual meringues are often filled with fruit or whipped cream.
Recipe from Fifty-Two Sunday Dinners
By Elizabeth O. Hiller
Published 1913