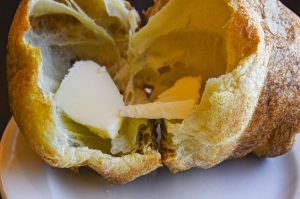 Ingredients:
3 large eggs at room temperature and whisked
1/2 teaspoon salt
1 1/4 cups room temperature milk
1 1/2 cups white flour
Directions:
Combine eggs, salt, and milk.
Mix in flour slowly, till thoroughly blended.
Bake for ten minutes in greased muffin pan.
Turn heat down to 350 and bake for 20 minutes.
Bring out, cool, remove from muffin pan.
Serve with soup, peanut butter and jelly, or by itself!
Recipe by Christian Calhoun