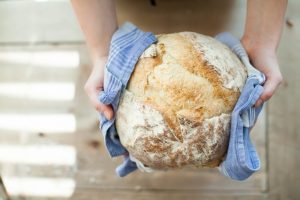 Ingredients:
5 teaspoons yeast
2 cups warm water
1/2 cup sugar
1 tablespoons salt
2 eggs
1/4 cup olive oil
5 cups white flour
1 1/2 cups wheat flour
Directions:
Disolve yeast in warm water. Add sugar, salt, eggs, oil and 2 cups of flour. Mix well til creamy, then add remaining flour and knead until dough is stable and elastic. Oil large bowl and set dough inside. Keep in warm place and let rise till doubled in size. Roughly 45 minutes to an hour.
Punch down the dough, then separate into 2 diferent loaves. Oil and flour two bread pans and set the loaves in them. Let rise till nearly doubled again.
Bake in oven for 30 minutes at 375 or till produces a golden top.
*Optional: halfway through the baking, carefully stroke the top with melted butter. Sprinkle salt and sugar and bake for the remaining time.
Recipe by Christian Calhoun