Silvia's Power Pancakes – a healing recipe for autistic children / autism
Crystal Calhoun
This is part 2 to: https://survivingtheoregontrail.com/blog/our-positive-experience-with-our-autistic-little-niece-and-organic-foods
Here is a recipe to Silvia's Power Pancakes. (protein & vitamin packed "power pancakes")
1 1/4 cup ORGANIC Whole Wheat flour
2 tablespoons Raw ORGANIC Honey
2 teaspoons baking powder w/out aluminum (you can leave out for flat unleavened Passover pancakes)
3 ORGANIC eggs
1 cup Whole ORGANIC milk
1/2 cup ORGANIC Peanut Butter (we like the chunky kind)
2 diced ORGANIC apples (diced very small)
2 teaspoons ORGANIC cinnamon
1/8th teaspoon salt (I sometimes use 1/4 tsp salt)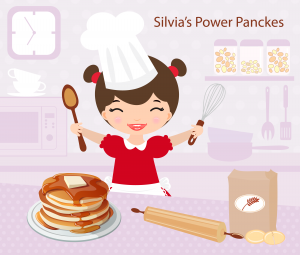 Add organic milk and flour to get the texture you like. Some of our family likes the big fluffy pancakes and then others like the super thin pancakes. I normally double up this recipe to feed the whole family of 6. I'll make the fluffy pancakes first and then add a bunch of milk till the mixture is very runny for those that like the thin pancakes.
Try different textures to see what works best for you. You may consider adding more or less cinnamon, honey, and peanut butter… these are all added to the degree you and your family enjoys these healthy treats.
Cook on the pan with Organic Salted Butter.
For a topping we use Organic Maple Syrup, Organic Honey OR Organic Agave Nectar. Some of our kids even add peanut butter on top because they love it so much.
I encourage you to research the health benefits of each item in Silvia's Power Pancake
Organic Whole Wheat Flower Benefits
Organic Eggs Benefits
Organic Raw Honey Benefits (local honey is best for those with allergy problems)
Organic Cinnamon Health Benefits
Organic Apples Benefits
Organic Peanut Butter Benefits
Organic Whole Milk Benefits
I'm telling you everything in this pancake spells H.E.A.L.I.N.G
🙂 Be Healthy, Be Blessed