Homemade Tortillas (with oil, not butter)
Crystal Calhoun
by Nicky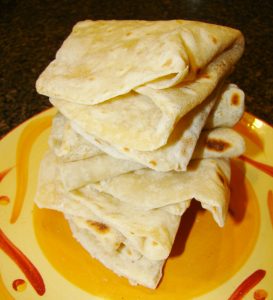 I LOVE homemade flour tortillas! As a child, I remember going over to a friend's house when her mother made fresh tortillas. The smell filled the house and we would line up to get them fresh off the grill. They were delicious all by themselves. But add a little butter or cinnamon sugar and they were heaven. Fast forward a few years, and head to Austin, TX. At Central Market on Lamar (either location), you'll find fresh tortillas made in the store. My favorite were the butter tortillas. They brought me back to my childhood in Southern California. They were ohhhh so good and much better than any other store bought tortillas I'd had over the years. I remember buying several dozen at a time to bring back home and freeze until I needed them. When I went back to California, there was a local store that carried fresh tortillas. They didn't make them in the store, but they were very close to Central Market's and my friend's kitchen. A few doors down from the grocery store was a taco shop that had killer carne asada burritos. They were a meal in themselves (think 12 inches long and about 4 inches in diameter filled with marinated flank steak, pico de gallo, and guacamole).
About a year ago, I learned that I was lactose sensitive. So no more butter tortillas for me. I started looking at the ingredients in tortillas available at the grocery store hoping for something without butter.Let's just say I wasn't happy with the ingredients I was finding. So I dug out my old recipe for flour tortillas with butter and started to experiment with different oils and flours. This recipe is as close, if not better than, the ones I had in my childhood. It calls for all pourpose flour. I tried whole wheat in different porportions and it didn't work. Only the white flour made tortillas like I was craving. I also tried different oils (except canola and corn because I don't use them). Olive oil and coconut oil were the best two. The olive oil had a more authentic taste than the coconut oil. But try it for yourself. After trying this recipe, you may never buy store bought tortillas again.
Ingredients
2 cups all purpose flour
1/2 teaspoons salt
3/4 cup warm water
3 Tablespoons olive oil
Directions
1. Combine the flour and salt in a large bowl. Stir in the oil and water until well combined. If using a mixer with dough hook, kead until dough becomes smooth. You may have to add a little extra flour. If hand kneading, turn dough onto a floured surface and knead 10-12 times until you get a smooth dough. Let the dough rest about 15 minutes.
2. Separate dough out into 8 pieces. Roll out each tortilla on a floured surface until dough is about 6-7 inches wide. The tortilla will be as thick as two quarters stacked on top of each other (just under 1/4 inch).
3. Heat a pan on medium. ( I like to use an iron skillet because it distributes heat more evenly). Place each tortilla in the hot pan and cook for 30-45 seconds, or until light brown. The tortilla will begin to fuff up as it cooks. Turn the tortilla and continue to cook for 30 seconds or until light brown. Remove from pan and keep warm.
To keep the tortillas warm, you can cover them with a kitchen towel, place in a covered dish, or in a special tortilla warmer. This recipe will make 8 tortillas. If you have any left, store in an airtight container/bag. I always make a double batch because my family eats them as fast as I can make them.
Try these tortillas with melted shredded cheese (quesadilla), cinnamon sugar or drizzled honey, with your favorite taco fillings.