Creative Writing Poetry, "Candlelight Trials"
Crystal Calhoun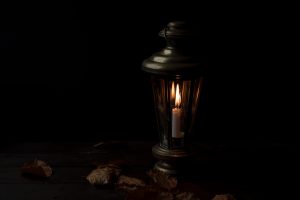 Candlelight Trials
By candle light I take my steps
By faith I move about.
In search of our handmade tent
We folded inside out.
Our wagon guards my white cow
Which reminds me of home.
We left for a promised land
Yet we were not alone.
We left with a wagon train
Full of hope to arrive.
Before the cold settled in
And fall would still be alive.
But in vain we traveled far,
To find danger and loss.
Yet with my candle I pray,
"I thank thee for the cross."
I nestle against my mother;
She says we'll be okay.
But I have not forgotten
Whom we buried this day.
And by candle light I think
Where is the Home-To Be?
Will I live to see our land
And dance among the trees?
I watch the candle burn low
And soon I fall asleep.
Twenty years from now I know
The candle remains, I will keep
For it proved to be so faithful
In providing me some light.
And during the winter months
It helped me with frostbite.
Written by Christian C.
Inspired by Christian B.