Survive in a Winter Wonderland pt 1
Crystal Calhoun
Whether you are out for fun and something bad like an unexpected snowstorm happens or you get lost by some freak accident, getting lost in the wilderness with nothing but the stuff in your pack can be even the bush-crafter's worst nightmare! Today we will go over some simple tips, such as how to be prepared and how to pack your bag. Then we'll go over the basics of survival.
How to Pack Your Survival Bag:
When going out into the wilderness for whatever reason, you should always be prepared. Some good things to bring with you include: extra clothing, a survival blanket, a normal small blanket, and hand-warmers. It is also wise to pack extra water, emergency food, and fire-starters such as a lighter, and matches. You should always wear the proper clothing before venturing out too, and never take it off even if your get hot and sweat. If you don't bring snowshoes with you, that is okay, you can make them with materials you find in the wild. Your survival pack should automatically be filled with utensils for survival camping, such as fold-able pots, pans, and containers, which are great for collecting water. Water purifiers is another very important addition. Always remember to bring a medical kit as well. Winter is a very bad time to get sick, especially in the wild, as it is much harder to get better. One more thing; a survival guide is something every pack should contain. The guide should mention wild foods, how to catch game, and how to build shelters.
The following information is valuable to every bush-crafter, as it may save your life someday. This is not to restrict you before you take a hike it is simply meant to serve as tips and survival tricks on how to pack your bag for the worst possible situation.
Ten C's of Survival:
Here we will go over the Ten C's of Survival. I will describe some of the best options for each category.
Cutting Tool: This is one of the most important parts of the pack as the knife or some sort of cutting object will be: a source of protection, a weapon for hunting, a way to make tinder, and even to build shelters or aid in medical emergencies. Choose your knife carefully and wisely as it could save your life.
Combination Tool: This is another important and useful tool. Combination tools can be a walking stick with attachments, a combo knife with added features, or a compass with an added flashlight and thermometer. Having several combination tools for different things will cut the space, work, and time in half.
Cloth: This topic may seem unimportant, and pretty much useless, but when you are faced with a survival situation, you will quickly learn that gathering the correct materials proves useful. When collecting cloth for the survival back-pack, take into consideration the fact that it could snow, rain, or hail while you're out in the wilderness. Cotton is not the go-to material when your soaking wet, as cotton does not retain heat as well when it is wet. Wool is known to be scratchy, but perfect when trying to keep yourself warm in a wet situation. Synthetics aren't the first choice, but better than moisture-soaking cotton as they can sometimes be advertised as water-proof, wind-breaking, and thermal.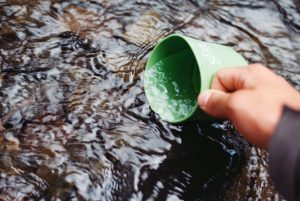 Cover: This is an easy thing to find because Cover can mean a tent, water-proof poncho, or survival blanket; basically, anything that can keep you warm and dry. Try to find something that is not too big to carry around, but not too small in case you get lost with another person.
Container: You will need a container to hold water, food, material, and other necessities, but the container doesn't have to be a gloriously advertised and special made survival thermal jug. It can be as simple as a closing mug, food container with tight closing lid, or a canning jar. You don't have to go by the advertiser's rules; keeping things within your budget is just fine.
Combustion Tool: Is on the top of the list as necessary! The combustion tool is the thing that will light your fires. Learning all the friction-fire-starters is good and all, but when you are freezing and it's -10 outside, it really doesn't matter how you get the fire going, the important part is going! Cheating and bringing a lighter, flint starter, or matches can be a lifesaver, and prevent you from frostbite and other painful winter specials. Combustion tools can come with the combo tool but it never hurts to have a back-up for the back pack.
Cordage: This word may confuse people as it is just a bit too fancy for its duller version, the rope. Rope is quite useful though when trying to build a shelter or setting traps to catch small prey. Bring enough to spread around the camp, as you don't want to find yourself making cordage out of vines in the middle of a snowstorm just to hang up your tent!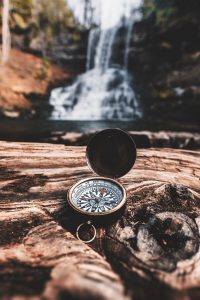 Compass: Everybody knows the main use of a compass, but there are other ways to use this little handy-dandy GPS. If your compass has a mirror, then you can use this to signal rescue groups, or even medical purposes such as looking at a wound your eyes can't naturally see. Always bring a compass, as it may be the only way back home.
Candle: When I say candle, I don't mean bringing a whole bunch of little emergency candles in your backpack. What survivalists usually mean when they say "candle", is some sort of light source. That can mean a headlamp (more preferred among survivalists as it frees up their hands), a flashlight, or a miniature car-key-light. The power of the light can be just bright enough to light the way when it gets dark, not a spotlight.
Cargo: This basically means a backpack. You need a good strong cargo bag to carry all these things and more if you expect to make it out of an extreme survival situation. I am not advertising anything, nor telling you what to do, I am merely stating that many pioneers, Bushcrafters, and daredevils have died from not being prepared.
Some extra things to have in your pack that will prove useful are sewing needles, duct-tape, bandana, aluminum, water purifier, band aids, and nutrition bars or emergency food. These things are not essential, but when the tent needs repair, you need to build something, or bandage a wound, these small trinkets and tools will prove their worth.
Those are the basic parts of a survivalist's bag. Each C helps the other, and allows the endangered soul who probably followed the butterfly a bit farther than they should have a chance to make it back home safely. Before we continue on with our adventure, here is a warning: Butterflies are not good. Do not follow them.
Look for Part 2! "Build Your Home in a Winter Wonderland!"
Resources: