Read Omohundro enlisted in the Marine Corps in July 1988 as a tactical vehicle operator. During that time, he participated in Desert Shield and Desert Storm. In May 1997, Read Omohundro was commissioned as an Infantry Officer in the Marine Corps. As an Infantry Officer, Read Omohundro participated in three Humanitarian Relief Operations to include Hurricane Katrina.  Additionally, he deployed to Iraq as a Company Commander in 2004.  In November 2004, Read Omohundro led his Marines during Operation Al Fajr or better known as the Second Battle of Fallujah. He returned to Iraq in 2007 as an advisor to the Iraqi Military. After 20 years of service, he retired with the rank of Captain to Oklahoma City in August 2008.
During his service, Read Omohundro assisted in the development and writing of the Marine Corps' Counter Insurgency Manual.  Additionally, he facilitated the training of Military Advisor teams headed to Iraq to train Iraqi Army, Police, and Border Patrol units.
Since leaving the Marine Corps, Read Omohundro works as a consultant for the military training units in tactics and advisor skills. He has worked in North Carolina and California training Marines.  Currently, he is working with the Oklahoma National Guard by educating units on Counter Improvised Explosive Device (C-IED) Tactics, Techniques, and Procedures (TTPs).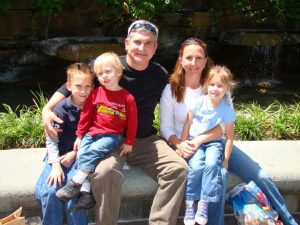 Read Omohundro began exploring sustainable living and homesteading while experimenting with Solar and Wind Power three years ago while living in California.  He also used his skills as an infantryman to develop techniques to deter predators from his chickens. Additionally, he has given lectures on the importance of urban survival after natural disasters.
Read resides in Oklahoma City with his wife and three children. They homeschool the children and actively experiment with sustainable resources.  They have incorporated a sustainable garden, rain barrels, and solar power to their home. Additionally, Read teaches the Japanese Martial Art of Aikido. Studying Martial Arts for more than 25 years, Read has dedicated his training to Aikido for 20 years.  He is the Chief Instructor of Three Forks Aikido in Muskogee, Oklahoma and is recognized through Birankai North America and International Aikido Federation as a NiDan (2nd Degree Blackbelt).