How to Stay Cool When It's Not So Cool
Christian Calhoun

Hot, sticky, and sleepless nights are not commonly preferred. However staying cool when it isn't cool without an AC unit is just about as hard as it gets. These 5 helpful tips and tricks might not be able to all-the-way prevent "hot, sticky, and sleepless nights", but they can relieve much added stress and bring some soothing relief for both day and night.
One of the most important things to remember during the summer is to wear loose, dark colored cotton clothing at night. If you are going to be outside, in the sun during the day, wear light colored clothing. But why?

Pastel or bright colored clothing helps reflect light and heat when you are in the light or heat. However once you move to the shade, the bright colors attempt to retain the heat. It's almost like a glow-in-the-dark reaction. Wearing cotton clothing also helps with air movement, and reduces the chance of the material getting stuck to your skin from sweat. Other synthetic or tightly woven materials like polyester, silks, and satin keep all the heat from escaping. Thus, your temperature is rising steadily.

But when you wear dark colored clothing in the shade, or at night, it helps you to keep cool. Try to avoid the sunlight or extra hot places when you are wearing not-so-right fashion designs, as they will quickly become uncomfortable.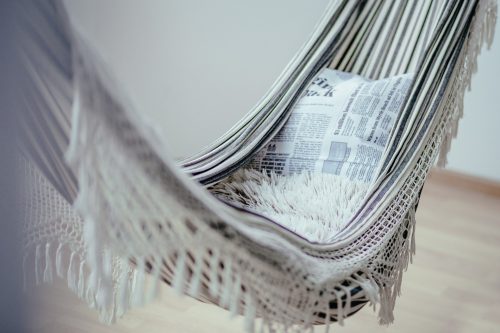 Your wrists, neck, and feet are surprisingly strategic places to cool yourself. Keep a decent amount of wet cloths, and lotion bottles in your refrigerator. When they are nice and cool, spread the lotion on your feet or arms for quick relief, or place the wet cloths around your neck.
Take a break from the luxurious comfy beds and go primitive! Bring out the cots and even hammocks for a few nights every now and then. These basic mattresses will be a lot cooler as they allow more air circulation. And if tonight is a particularly hot night, lightly spray your sheet with water, stick it in your refrigerator, and remove once nice and cool. Sleep with the automatic-sheet-cooler and enjoy the sweet coolness without the AC.

Although this tip is not necessarily preferred, it does make a difference. Electronic devices that need to be charged or plugged into the wall should be turned off before heading to bed. With all that electricity, motors, and engines running (whether it be a keyboard, computer, or even a phone), the temperature will rise. Turn them off to not only save energy, but your money as well.
DRINKS LOTS OF LIQUID! This may seem slightly redundant, but there are many times where we forget to drink plain h2o and grab a coffee from some convenient joint instead. Avoid drinking coffees and teas when temperatures are soaring as they will dehydrate you. Drink juices, water, or eat fruits such as oranges, watermelons, and grapefruit. If you can, sprinkle salt on these fruits as when you sweat, you lose a lot of sodium.
Hope these tips help out when in the heat. Don't forget to check out our other amazing articles on survival, cooking, and wilderness preparedness!